When I left my job to start my own business and work from home one of my main goals was to slow down and learn to appreciate the little things in life.
I am using my Project 365 to help me accomplish that goal and one of the things that is helping me stick with my project is
Capture Your 365
. I've written about Katrina and her
amazing photography classes
before, they got me off the auto setting on my camera. Now with Capture Your 365 her daily photo prompts are helping me to see the world through new eyes.
I am noticing textures, shadows and colours so much more.
I am stopping to get out of the car and look around me… this is the road I take several times a week to the city, Katrina's prompt to photograph lines made me pay attention during my drive, looking for lines to capture.
I am playing with light, even more now that the days are getting longer.
I take my camera almost everywhere, but there are times when I leave it at home… even then I use my trusty
Instagram app
on my iphone to capture a moment.
I am learning to
"Enjoy the little things, for one day you may look back and realize they were the big things."
I don't know what I will do with all these photos at the end of my year, perhaps put them all together in a book. I am slowly adding them to a blog I set up just for my
365 photos
then I will have them all in one place when I decide what else to do with them.
I would have loved to have a glimpse into a year in the life of my ancestors. Who knows what the day to day life of my grandchildren will look like, our world is changing so fast I can't even begin to imagine.
I'll just focus on my world, right now, one day at a time.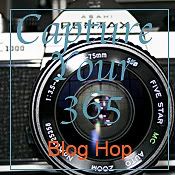 If you are arriving here from
Life... as I see it
via the CY365 Blog hop, Welcome! That's a little glimpse into my Project 365, the next stop on the blog hop is the very talented
Tracy
from New Zealand.
There are so many talented photographers sharing their lives through their 365 photos in the
CY365
gallery and 13 are joining in the blog hop! The whole list is below please stop by and leave them a comment!
Capture Your 365 Blog Hop List
1. Jill
jillconyers.typepad.com
2.
Me
3. Tracy
tracyannelittle.com
4. Anne
limeblog.net
5. Sarah
blog.three8sphotography.com
6. Sharon
sharonlinnefaulk.com/photo
7. Michelle
ourhereandnow.blogspot.com
8. Katrina
captureyour365.com
9. Kathleen
jkplusthree.blogspot.com
10. Erika
imhangingwithmypeeps.blogspot.com
11. Gabi
gabirytirova.typepad.com
12. Christi
randomactsofchristi.blogspot.com
13. Joey
everydayimagination.blogspot.com