Being a military family for so many years, and moving OFTEN we really didn't accumulate a lot of additional
stuff
.
I always found it easy to decide if something was worth packing and unpacking (and lots of
stuff
didn't make the cut). Lately I am discovering that after living in this house for
nine
years the
stuff
has begun to multiply.... and my little house is beginning to feel like it's bursting at the seams.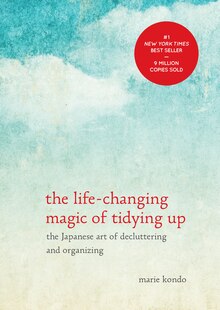 Enter
The Life-Changing Magic of Tidying Up
by Marie Kondo. As much as I love a good novel, my bedtime reading is usually non-fiction of the self-help or social/cultural studies variety. I can get lost in a good novel and stay up reading all night but non-fiction I can put down after a chapter or two.
Tidying Up
was a quick little read and some of her methods are ideas I have used before. Ms Kondo advocates for organizing by category instead of by room, something I tried earlier this year with office supplies... once I gathered all the notebooks I had scattered throughout the house into one place I realized I may have a little stationary problem.
Some of her practices seemed a little extreme to me but I can see where they might be necessary for someone living in a tiny space. Anyone looking into simplifying their belongings might want to pick up a copy. If you've read Tidying Up and are looking for more of in-depth course in decluttering and organizing, Spark Joy is her newest book... an illustrated master class in the "KonMarie method". I don't know if I'm up for a master class but for now.... if you're looking for me, I'll be in a corner organizing stuff.